"I'm sorry, Rangers, but we simply do not have enough information to proceed."
This article is a stub, meaning it needs more info. You can improve this RangerWiki article by expanding it.
Daniel Ewing (born June 3 1985), is an Australian actor. He appeared on Seven Network's Home and Away series as Reuben Humphries and has played the role of the Black Ranger, Dillon, on Power Rangers: RPM.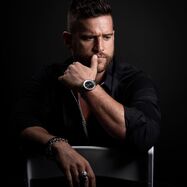 Personal Life
Ewing became engaged to his girlfriend, Marni Little, in September 2011. [3] Ewing married his fiancée on December 15, 2012[4]
Ewing was a contestant in the 2011 season of Dancing With The Stars on Channel Seven. He was partnered with Luda Kroiter and both were eliminated in week five. Ewing danced in support of the St Vincent de Paul Society, where his mother works.
Ad blocker interference detected!
Wikia is a free-to-use site that makes money from advertising. We have a modified experience for viewers using ad blockers

Wikia is not accessible if you've made further modifications. Remove the custom ad blocker rule(s) and the page will load as expected.