Daisuke Tsuchiya
(

土屋 大輔

Tsuchiya Daisuke

)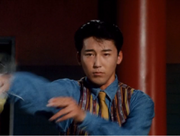 is the twin brother of
Keisuke Tsuchiya
, who played
Kazu of the Heavenly Time Star
(KirinRanger) in
Gosei Sentai Dairanger
. He played an
evil copy
of his brother's character in
episode 25
. This was mirrored in the
Metal Hero
series,
Juukou B-Fighter
, where Daisuke Tsuchiya played the protagonist
Takuya Kai/Blue Beet
, while Keisuke played his evil clone
Shadow/Black Beet
.
In the next series, Ninja Sentai Kakuranger, Daisuke and Keisuke Tsuchiya played Tarou & Jirou respectively.
Notes
External links
Ad blocker interference detected!
Wikia is a free-to-use site that makes money from advertising. We have a modified experience for viewers using ad blockers

Wikia is not accessible if you've made further modifications. Remove the custom ad blocker rule(s) and the page will load as expected.