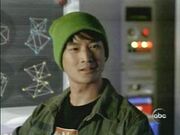 Cyber Cam is a "virtual replicant" of Cam created to monitor things at base when the real Cam is out in the field on Ranger missions.
Biography
Cyber Cam has a widely different personality than the real Cam and acts like a rapper, wearing skull caps, speaking in urban vernacular (for example, he called Tori as 'Babelicious!'), excelling in adventure sports like skateboarding, surfing, motorbikes, etc. In short, Cyber Cam excelled in all those skills that Cam did not.
Notes
Cyber Cam's street-like talk resembles that of Alpha 6 from Power Rangers: Turbo.
Cyber Cam is the only ranger clone to start out as 'good'. Most clone characters were originally 'evil', and some later became good).
See also
Ad blocker interference detected!
Wikia is a free-to-use site that makes money from advertising. We have a modified experience for viewers using ad blockers

Wikia is not accessible if you've made further modifications. Remove the custom ad blocker rule(s) and the page will load as expected.