description to be added
Character History
Had a high-pressure water cannon concealed in his claw and a strong shell on his back that could deflect his opponent's attacks. Worked together with Helmedor in order to gain the power of the space fairy Picoto, which it used a wish to bring back several defeated Psycho-Nezilar to assist him. Killed by Wing Mega Voyager.
Personality
to be added
Modus and Arsenal
Notes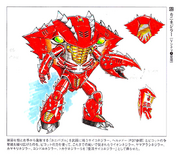 Portrayal
Conception
Behind the Scenes
References
Ad blocker interference detected!
Wikia is a free-to-use site that makes money from advertising. We have a modified experience for viewers using ad blockers

Wikia is not accessible if you've made further modifications. Remove the custom ad blocker rule(s) and the page will load as expected.