Ep. 1: The Great Gathering of 10 Sentai: Counting on You! Turboranger
Talk

0
9,852pages on
this wiki
Counting on You! Turboranger is the first episode of Kousoku Sentai Turboranger. It is also a special episode that celebrates the 10th anniversary of the Super Sentai franchise, which began with Battle Fever J in 1979.
Summary
When the Hundred Boma Tribes begins an assault on the surface, the Turboranger face off with them with the support of their ten previous Sentai allies!
Plot
The newest Super Sentai team, Kousoku Sentai Turboranger, confront their villains, the Hundred Boma Tribes. They are soon joined by the previous ten teams (Battle Fever J, Denshi Sentai Denziman, Taiyo Sentai Sun Vulcan, Dai Sentai Goggle V, Kagaku Sentai Dynaman, Choudenshi Bioman, Dengeki Sentai Changeman, Choushinsei Flashman, Hikari Sentai Maskman and Choujuu Sentai Liveman). The Turborangers explain the story of each ten teams. Then the Turborangers face off against their enemies while the ten past teams cheer them on.
Characters
Turboranger
Sentai Allies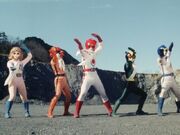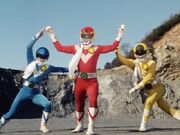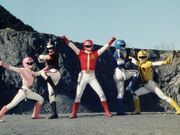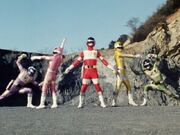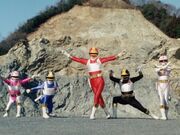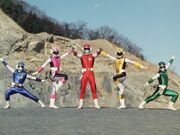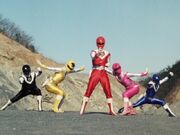 Allies Who Appear in Clips
Hundred Boma Tribes
Villains Who Appear in Clips
Secret Society Egos
Vader Clan
Machine Empire Black Magma
Dark Science Empire Deathdark
Tailed People Clan Jashinka Empire
Neo Empire Gear
Great Star League Gozma
Reconstructive Experiment Empire Mess
Underground Empire Tube
Armed Brain Army Volt
Notes