A crooked traffic cyborg cop. He was one of the Don's best friends, before Dolnero found Gien and Lila. He used his authority as a police officer to mug people. Found by accident, Don Dolnero revives his old friend, who intended to replace Gien and Lila and restart the Dolnero Family. However, though it pained him, Dolnero gave Arnold an upgrade for his weapon, though it was actually a bomb. As Arnold-K is brought in by TimeRobo, Dolnero explains that he ultimately chose his current family.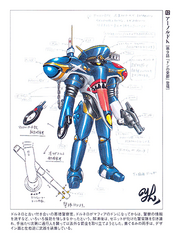 See Also
Ad blocker interference detected!
Wikia is a free-to-use site that makes money from advertising. We have a modified experience for viewers using ad blockers

Wikia is not accessible if you've made further modifications. Remove the custom ad blocker rule(s) and the page will load as expected.