Prisoner #4101, Corrupted Medicine Doc (悪徳殺人医・ドク, Akutoku Satsujini Doku, 7): A surgical vivisection robot who was in for 500 years for using his medical knowledge to murder his patients. He would then give out large medical bills to their surviving kin. Brought in by TimeJet Gamma/TimeRobo Alpha. His name is a pun on the word "doctor".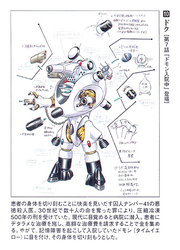 See Also
Ad blocker interference detected!
Wikia is a free-to-use site that makes money from advertising. We have a modified experience for viewers using ad blockers

Wikia is not accessible if you've made further modifications. Remove the custom ad blocker rule(s) and the page will load as expected.