Comparison:Steel Starbeast GigaRhinos vs. Centaurus Megazord
Talk

0
Share
This page highlights the differences between Steel Starbeast GigaRhinos and Centaurus Megazord.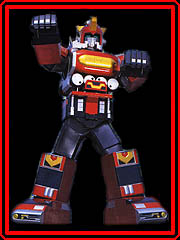 | Steel Starbeast GigaRhinos | Centaurus Megazord |
| --- | --- |
| Was rendered inert by the destruction of it's home planet before being rebuilt, but was reawakened on Earth on the night of the Star Festival. | Was drained of it's power during an ancient battle with an unidentified nemesis, and was reawakened on Terra Venture following a lengthy battle. |
| Took part in the Seijuu Sentai Gingaman vs. Megaranger team up, where it fought alongside Galaxy Mega. | Was not featured in the Megazord battle in The Power of Pink. |
| Perished during the battle with Demon Beast Daitanix II. | Was destroyed by bomb-laden Stingwingers swarming all over its body while protecting Terra Venture. |
Ad blocker interference detected!
Wikia is a free-to-use site that makes money from advertising. We have a modified experience for viewers using ad blockers

Wikia is not accessible if you've made further modifications. Remove the custom ad blocker rule(s) and the page will load as expected.