Comparison:Kyoryu Origami vs. SharkZord
Talk

0
Share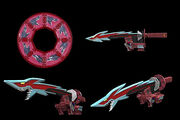 This page highlights the differences between Kyoryu Origami and SharkZord.

Differences
| Kyoryu Origami | SharkZord |
| --- | --- |
| A tyrannosaurus mecha. | A shark zord. |
| Was used by 4 rangers, ShinkenRed, Green and Gold and Go-On Red. 5 if you include Marvelous' Gokai Change into Hyper ShinkenRed against Ackdos Gill. | Was used by 3 rangers, Samurai Rangers Red and Green and Ranger Operator Series Red from RPM: 4 if you include Troy Burrows' Legendary Ranger Mode morph into Samurai Red Shark Attack Mode against Emperor Mavro. |
| Was unlocked when a Secret Disk used by the first Shinken Red was added to the Shinkenmaru, which was then stabbed into Manpaku Aburame, breaking the seal Retsudō placed on Manpuku's body and restoring the Disk's full power. | Was unlocked when Antonio, while programming the LightZord, discovered the Shark Disk that had been held within it. |
Ad blocker interference detected!
Wikia is a free-to-use site that makes money from advertising. We have a modified experience for viewers using ad blockers

Wikia is not accessible if you've made further modifications. Remove the custom ad blocker rule(s) and the page will load as expected.