Comparison:Gosei Great vs. Gosei Great Megazord
Talk

0
Share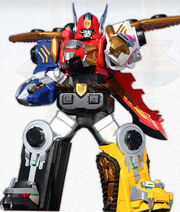 This page highlights the differences between Gosei Great and Gosei Great Megazord.
Differences
| Gosei Great | Gosei Great Megazord |
| --- | --- |
| Heads- The Headders were originally part of the Goseiger arsenal, which later gained the ability to become Gosei Machines. | Heads- The Mega Blasters have identical heads to the zords but are not one and the same. |
| Machines- Their developed Gosei Machine forms however were granted as a 'miracle', and fulfilled a Gosei Angels prophecy. | Machines- The Zords are Mechazords are originally part of the arsenal, but only saw usage beginning their second battle with Yuffo. |
| Kept being used by the Goseigers throughout their entire series. Was not replaced by GokaiOh as it belonged to an entirely different team; the Gokaigers. | Was replaced in favor of the much stronger Legendary Megazord. Was temporarily used again when Vrak disabled the use of the Legendary Ranger Powers. |
| Was seen to be destroyed by Zangyack during the Great Legend War, but rebuilt soon after. | Never directly fought in the initial battles against the Armada. Gosei Great Megazord was only survived when the Legendary Megazord was destroyed. |
| Fought against GokaiOh during 199 Hero Great Battle movie, due to the Goseigers thinking the Gokaigers stole their powers. | Never fought against the Legendary Megazord, as it belonged to the same team of Rangers. |
| Fought alongside most Super Sentai robo's during the 199 Hero Great Battle movie. | Never fought alongside or even encountered Megazords outside the Megaforce season. |
Ad blocker interference detected!
Wikia is a free-to-use site that makes money from advertising. We have a modified experience for viewers using ad blockers

Wikia is not accessible if you've made further modifications. Remove the custom ad blocker rule(s) and the page will load as expected.