Comparison:Gosei Cards vs. Power Cards
Talk

0
Share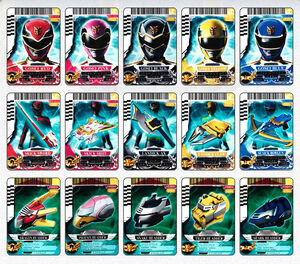 This page highlights the differences between Gosei Cards and Power Cards.
Differences
| Gosei Cards | Power Cards |
| --- | --- |
| The cards refer specifically to the function of each card by name. | The card names are not necessarily the same as the function i.e. Landick Ax card is used to summon Snake Ax. |
| Headder Cards call Headders (with mecha function and to attach to Blasters) | Headder Cards call the blasters straightaway. (The "zord" call is ommited) |
| Gosei Machine cards call the Headders to form Gosei Machines. | Same cards do essentially the same thing, except the "zords'" uses as Blaster attachments are negated. The Rangers note that the zords/cards are "like" the blasters, and refer to the images in the cards as the zords. Of note, even the "heads" are never referred to as zords but only by their card names. |
Ad blocker interference detected!
Wikia is a free-to-use site that makes money from advertising. We have a modified experience for viewers using ad blockers

Wikia is not accessible if you've made further modifications. Remove the custom ad blocker rule(s) and the page will load as expected.