Comparison:Devil Sword Hellfriede vs. Sword of Darkness
Talk

0
Share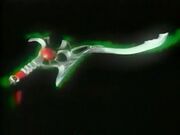 This page highlights the differences between Devil Sword Hellfriede and Sword of Darkness.
Differences
| Devil Sword Hellfriede | Sword of Darkness |
| --- | --- |
| It is unkown where the sword came from. | Belonged to Zordon at first, but was stolen from Zordon's warriors by the Knasty Knight. |
| Burai had to take the sword from an undead knight by battling it. | Rita gave Tommy the sword after defeating putties as part of a test. |
| The sword would drive the wielder insane by amplifying their rage and hatred. | The sword would enhance Rita's mind control spell over Tommy as long as he wielded it. |
| Did not reappear after Geki destroyed it. | Temporarily returned in the hands of the evil Green Mutant Ranger after its initial destruction by Jason. |
Ad blocker interference detected!
Wikia is a free-to-use site that makes money from advertising. We have a modified experience for viewers using ad blockers

Wikia is not accessible if you've made further modifications. Remove the custom ad blocker rule(s) and the page will load as expected.