Comparison:Super Mythical Chi Beast Daimugen vs. Tor the Shuttlezord
Talk

0
Share
This page highlights the differences between Daimugen and Tor the Shuttlezord.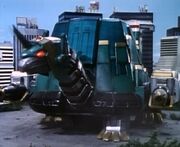 Differences
| Daimugen | Tor |
| --- | --- |
| Was a Chi Beast who fled during the first war between the Dai and Gorma. | Was a zord created by Zordon to act as a new Carrierzord for the Thunder Zords. |
| Was a living creature. | Was a robot. |
| Changed between human and Mythical Chi Beast using the Lai-Lai Jewel. | Could not change into a human. |
Ad blocker interference detected!
Wikia is a free-to-use site that makes money from advertising. We have a modified experience for viewers using ad blockers

Wikia is not accessible if you've made further modifications. Remove the custom ad blocker rule(s) and the page will load as expected.