Comparison:Daim Tribe Knight Boi vs. Aisha Campbell
Talk

0
Share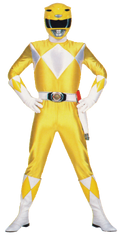 This page highlights the differences between Daim Tribe Knight Boi and Aisha Campbell.
| | Tiger Ranger | |
| --- | --- | --- |
| | | |
| | Yellow Ranger | |
Differences
| Boi | Aisha |
| --- | --- |
| Boi is male. | Aisha is female. |
| Boi was the first in line to receive his powers. | Aisha received Trini's powers. |
| Boi's powers only lasted for one season and were his own | Aisha's character utilized powers connected to Boi as well as to Kazu of the Heavenly Time Star and Seikai. |
| Only possessed one mecha; the Guardian Beast Saber Tiger | Possessed three Zords: The Sabertooth Tiger Griffin Thunderzord, the Bear Ninjazord and Yellow Shogunzord. Never used the Sabertooth Tiger Dinozord. |
| Went to heaven after the Zyurangers completed their mission of defeating Bandora. | Travelled back in time to find her piece of the Zeo crystal, but stayed in the past as she felt she was of more use there. |
See Also
Ad blocker interference detected!
Wikia is a free-to-use site that makes money from advertising. We have a modified experience for viewers using ad blockers

Wikia is not accessible if you've made further modifications. Remove the custom ad blocker rule(s) and the page will load as expected.