Comparison:Beast General Fighters vs. Battle Borgs
Talk

0
Share
This page highlights the differences between the Beast General Fighters and the Battle Borgs.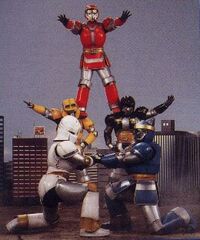 Differences
| Dairen'oh | Thunder Megazord |
| --- | --- |
| Are manifestations of the Kakurangers' powers with no known connection to Ninjaman. | Are giant automatons given to the Alien Rangers of Aquitar by Ninjor. |
| The Kakurangers could become their respective Beast General Fighters, or the Fighters could operate independently. | The Alien Rangers controlled the Battle Borgs through a psychic link. |
| No known connection exists between the Beast General Fighters and the Red Puncher of the Ohrangers. | The Red Battlezord was created using technology from the Battle Borgs, making it essential that its operator be mentally focused. |
Ad blocker interference detected!
Wikia is a free-to-use site that makes money from advertising. We have a modified experience for viewers using ad blockers

Wikia is not accessible if you've made further modifications. Remove the custom ad blocker rule(s) and the page will load as expected.