Comparison:Bakuryuu Gattai KillerOh vs. DinoStegazord
Talk

0
Share
This page highlights the differences between Bakuryuu Gattai KillerOh and DinoStegazord.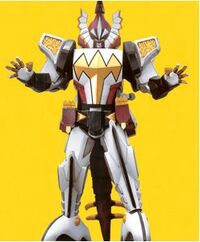 Differences
| KillerOh | DinoStegazord |
| --- | --- |
| Components were sentient mecha capable of speech: Stegoslidon was briefly forced into Mikoto Nakadai's service but later chose to serve him willingly. TopGaler was a hostile Bakuryuu that previously destroyed a city on Dino Earth and showed no particular affection for Mikoto until they both perished together. | Component Zords were not known to be sentient, and neither Zord was seen to be destroyed in the battle with the Zelzord. |
| Took part in Bakuryuu Sentai Abaranger vs. Hurricaneger, where it fought and defeated the rebuilt Gourai Senpuujin. | Never fought against or alongside the Thunderstorm Megazord. |
| Took part in Tokusou Sentai Dekaranger vs. Abaranger as part of Killer AbarenOh. | Didn't appear in History or Wormhole and never fought alongside mecha from S.P.D. |
| Fought on the side of evil until AbareKiller reformed. AbareKiller piloted it the whole time prior. | First piloted by Trent and later the White Ranger clone. Was not used on the side of good until Tommy piloted it and then Trent after the clone's death. |
| Once piloted by Asuka, only after TopGaler agreed to cooperate and allow him to form KillerOh. | Once piloted by Tommy with no difficulties involved. |
|}
Ad blocker interference detected!
Wikia is a free-to-use site that makes money from advertising. We have a modified experience for viewers using ad blockers

Wikia is not accessible if you've made further modifications. Remove the custom ad blocker rule(s) and the page will load as expected.