Coin Shadow (コインシャドー, Koin Shadō?) is a Shadow Monster that appears in Episode 26 of Ressha Sentai ToQger.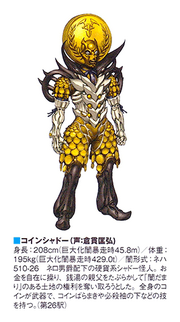 Character History
Coin Shadow was defeated by Cho ToQ-Oh Fire. Station 26: The Fight that Started in a Bathhouse
Coin Shadow was later part of a group of revived Shadow Monsters who fought the ToQgers and Kyoryugers. He ends up being destroyed again alongside the other revived Shadow Monsters by the two Sentai Teams' (bar their Reds) combined finishers, the Imagination Brave Finish. Ressha Sentai ToQger vs. Kyoryuger: The Movie
Notes
ID Number: Ne Ha 510-26
Station Building: N/A
Motif: Coin
Height: 208 cm (45.8m: giant)
Weight: 195 kg (429.0t: giant)
This is the first Shadow Monster (not counting Zaram) who has a human form.
Behind the scenes
Portrayal