Clock Shadow (クロックシャドー, Kurokku Shadō) is a Shadow Monster that appears in the ToQger's VS movie, Ressha Sentai ToQger vs. Kyoryuger: The Movie.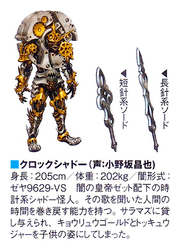 Powers and Abilities
Clock Shadow can reverse someone's age when the listen to a special song.
Arsenal
The Long Hand Sword (長針系ソード Chōshin-kei Sōdo) and a Short Hand Sword (短針系ソード Tanshin-kei Sōdo).
Profile
ID Number: Ze Ya 9629-VS
Station Building: N/A
Motif: Clock
Height: 205 cm
Weight: 202 kg
Behind the scenes
Portrayal
Notes
External Links
References