Chigukaden Buildjick (Chigukadeseijin Buildjick) is an Alienizzer that appeared in Mahou Sentai Magiranger vs. Dekaranger
Character History
Giant mechanoid from Planet Chigukade. He picked up a restaurant that the Magirangers and Umeko are in and began eating it. Was captured by the Dekarangers' mecha, only to be eliminated by his partner Baurbon.
Arsenal
Notes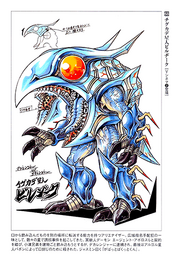 Portrayal
Behind the Scenes
References
Ad blocker interference detected!
Wikia is a free-to-use site that makes money from advertising. We have a modified experience for viewers using ad blockers

Wikia is not accessible if you've made further modifications. Remove the custom ad blocker rule(s) and the page will load as expected.