Cheeda Nick
Talk

0
9,861pages on
this wiki
Cheeda Nick
(

チダニック

Chida Nikku

?

)
is the cheetah-type mecha
Buddy Roid
partner of
Hiromu Sakurada
. He is a positive thinker, and though a robot, has no sense of direction. Nick acts like an older brother to Red Buster. Also, he is able to transform into a motorcycle for Red Buster to ride into battle (where his face becomes the handle and meter). When fighting in robot mode, Nick can also use his rear wheels as handheld weapons.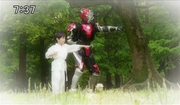 Cheeda Nick Motorbike Mode
Cheeda Nick Motorbike Mode (チダニックモーターバイクモード, Chida Nikku Mōtābaiku Mōdo?): Cheeda Nick can transform into a motorcycle for his partner, Red Buster. His face then becomes the handles and the speedometer.

Protector Armors
Cheeda Nick can combine with Red Buster, as well as his alternate reality counterpart, Red Cheetah, forming protective armor on their suits.
As Red Buster uses the GB Custom Visor, Cheeda Nick's data transfers and projects onto Red Buster's suit to form a powerful armor based on the "protector" prototypes. Cheeda and Red Buster, to a degree are combined and can teleport swiftly in a puff of red smoke. Red Buster/Cheeda gain the attack "Volcanick Attack" which allows them to manifest as a flaming CB-01 Cheetah that charges toward the enemy.

Buddy Roid Key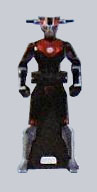 The Cheeda Nick Key (チダ・ニックキー, Chida Nikku Kī?) is Cheeda Nick's Buddy Roid Key. Tokumei Sentai Go-Busters vs. Kaizoku Sentai Gokaiger: The Movie

Video Game appearances
Go-Busters video game
Nick appears with the other Buddyroids in the Nintendo DS Tokumei Sentai Go-Busters video game.
Behind the scenes
Portrayal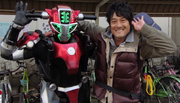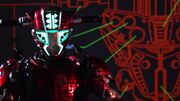 Cheeda Nick is voiced by Keiji Fujiwara (藤原 啓治, Fujiwara Keiji?). His suit actor is Kosuke Asai (浅井 宏輔, Asai Kōsuke?), whose previous role was Basco ta Jolokia's true form in Kaizoku Sentai Gokaiger. This ironic, while Nick and Red Buster are partners, Basco and Gokai Red were archenemies.
Nick was briefly portrayed by Katsuhiro Suzuki (鈴木 勝大, Suzuki Katsuhiro?) in Mission 28: Beware of Chickens, when Sprayloid 2 caused Nick's appearance to change into that of Hiromu, though Keiji Fujiwara still provided Nick's voice.
Sentai notes