description to be added
Character History
A Nezire Beast used by Guirail in a plan to pirate Delta Mega with the Grand Neziros. "Resurrecting" fallen Nezire Beasts, Mukade Nezire enlarges as his revived Nezires overwhelm the Megarangers, to keep them from using Galaxy Mega and force Mega Red to call Delta Mega, springing Guirail's trap. Managing to form Super Galaxy Mega to break Nezirejia's hold over Delta Mega, the Megarangers use their newly formed robot to destroy Mukade Nezire, causing his revived Nezires to dissolve away, in the process.
Personality
to be added
Modus and Arsenal
Notes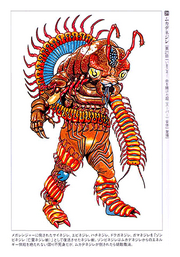 Portrayal
Conception
Centipede Nezire was designed by character designer Akira Nozaki.
Behind the Scenes
See also
References
Ad blocker interference detected!
Wikia is a free-to-use site that makes money from advertising. We have a modified experience for viewers using ad blockers

Wikia is not accessible if you've made further modifications. Remove the custom ad blocker rule(s) and the page will load as expected.