"Doubutsu Sentai Zyuohger!"

―Zyuohgers announcing their arrival

"Better not underestimate this planet!"

―Pre-battle catchphrase
The Zyuohgers (ジュウオウジャー, Jūōjā) are the 40th Super Sentai team. They consist of four anthropomorphic animals (who can assume human guises) called Zyumans, who hail from a parallel world called Zyuland, and a human zoologist named Yamato. Together they battle the evil Deathgalian, a hostile alien race have set their sights on invading Earth next. It is up to the Zyuohgers to use their Zyuoh Cube powers to stop the Earth invasion.
Team Members
Edit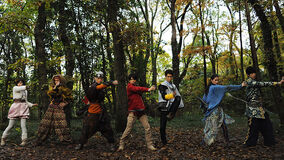 Wannabe
Team History
Edit
The Zyuohger team was formed when the Four Animal Monarchs arrive on Earth and join hands with Yamato Kazakiri, a zoologist.
Chou Super Hero Taisen
Edit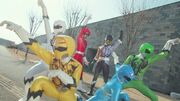 On her own, Amu was caught up in the Chou Super Hero Taisen

crisis. Her teammates eventually caught up with her in time to fight against the army of Shocker

from the Game World

alongside various fellow Sentai Rangers and Kamen Riders. Kamen Rider × Super Sentai: Chou Super Hero Taisen
Kyoryuger Brave
Edit
Juyong Kwon and Juhyeok Kwon use the Animal Force Zyudenchi, which summons the Animal Force Power Rangers (the Zyuohgers). Yamato Kazakiri de-morphs and then shakes Juyong's hand. King 12: Forever! Kyoryuger Brave

Transformation Devices
Edit
Individual Weapons and Team Weapon
Edit
Sidearms
Edit
Legend:◆ piloted mecha,  2-person mecha, ❖ auxiliary mecha
Auxillary
Edit
Alternate Combinations
Edit
Zyuohgers
Edit
Video game appearances
Edit
Super Sentai Legend Wars
Edit
Zyuohger is among all the Sentai teams which appear in the mobile game Super Sentai Legend Wars.

Legend Sentai Devices
Edit
Behind the scenes
Edit
In popular culture
Edit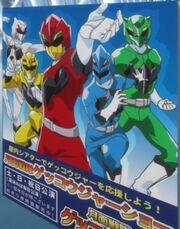 The Zyuohgers are homaged by the Getsumen Sentai Gekkouger, appearing as a poster in the 2017 anime series Tsuki ga Kirei (月がきれい, Tsuki ga Kirei as the moon, so beautiful.).

Appearances
Edit
References
Edit