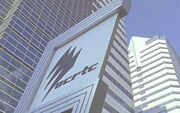 Supporting Sports through Science and Heart
SCRTC (pronounced 'scratch') is a sporting goods company headed by Miki Masaki. The company produces various sporting goods such as sportswear and paraphernalia.
The company supports and houses the Gekiranger. The company's logo is embossed on the Gekiranger's uniform. They are included in the Special Development Department of SCRTC.
SCRTC is also the entity that has Jan Kandou in their legal custody, after having been found by Miki Masaki in the forest.
Notes
See also
Pages in category "SCRTC"
The following 18 pages are in this category, out of 18 total.