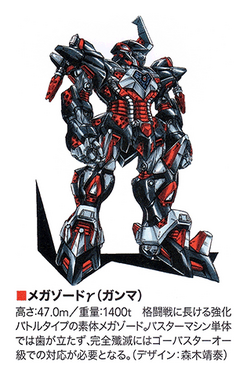 The MegaZord Gamma (メガゾードγ, Megazōdo Ganma) or Type Gamma (タイプγ, Taipu Ganma) are a set of robots Vaglass uploads from their hyperspace to the real world with the use of data collected from Metaloids. These MegaZords have large a humanoid structure but a single 'eye' unit where its head is. Once the Metaloid data is completely transferred, the MegaZord enters the real world with properties from the Metaloid's source material.
Gamma-classed Megazords are known for being specialized attackers, as well as being tougher and faster than the other MegaZords.
List of Megazord Gamma forms
Notes
Conception
Appearances
Pages in category "MegaZord Gamma"
The following 11 pages are in this category, out of 11 total.