"I'm sorry, Rangers, but we simply do not have enough information to proceed."
This article is a stub, meaning it needs more info. You can improve this RangerWiki article by expanding it.
"We summon the Animal Spirits from within! Power Rangers Jungle Fury!"

―Jungle Fury Rangers announcing their arrival
The Jungle Fury Rangers are masters of Pai Zhua. Utilizing their 'animal spirits', they can transform into a superhuman fighting force.
The term Jungle Fury Rangers may refer to the five-man team, as well as with the inclusion of the Spirit Rangers and former villains Jarrod and Camille.
Rangers
Jungle Fury Rangers
Spirit Rangers
Warriors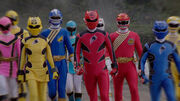 Team History
"We are the vision in your dreams. We do not exist, yet we have been here since the beginning. We are Pai Zhuq, the Order of the Claw. We train only the best, both physically and mentally, swearing them to secrecy. All masters of their skills, never knowing their true purpose until now."

―Master Mao
Super Megaforce
The Jungle Fury Rangers returned as part of the army of Legendary Rangers that helped the Mega Rangers defeat the Armada once and for all, fighting in a huge battle against hundreds of X Borgs and dozens of Bruisers. Legendary Battle
Arsenal
Morphers
Sidearms
Individual Weapons
Team Cannon
Power-Up
Vehicles
Zords
Jungle Pride Zord System
Legend:◆ piloted zord, ❖ aux zord, ➲ carrier zord
Jungle Master Zord System
Legend:◆ piloted zord, ❖ aux zord, ➲ carrier zord
Alternate Combinations
Alternate Megazords
Jungle Pride Megazord
Jungle Master Megazord
Members
Legendary Ranger Keys
Super Megaforce/Jungle Fury Legendary Ranger Mode
Notes
Appearances
See Also
Subcategories
This category has only the following subcategory.
Pages in category "Jungle Fury Rangers"
The following 10 pages are in this category, out of 10 total.
Media in category "Jungle Fury Rangers"
This category contains only the following file.