The Dream Sentai are a group of five members from different Super Sentai teams from the past that appeared in Hyakujuu Sentai Gaoranger. Consisting of Big One, MegaPink, GoYellow, Red Falcon, and GingaBlue. After meeting Sokichi, the G-Phones lead the Gaorangers to the other four. They lectured the Gaorangers on past heroes and helped fight the Orgs and Lost Highness Rakushaasa.
Dream Sentai
Red Warriors
The red warriors from the twenty four Sentai teams that came before the Gaorangers, briefly appeared to give extra power to defeat Rakushaasa.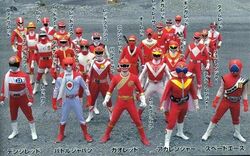 Mecha
The robots, animals, jets, machines and vehicles belonging to their respective red heroes also came to fight Rakushaasa.
Heroes
Trivia
With the exception of a Timeranger, this team encompasses the predecessors of the Gaorangers up to the Gingamen.
Pages in category "Dream Sentai"
The following 5 pages are in this category, out of 5 total.