| | |
| --- | --- |
| | This article is about a/an a collection of comics with characters and concepts in the Power Rangers franchise. |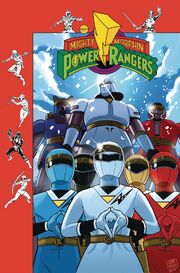 As with most superheroes, the Power Rangers had spawned several of their own comic series. This is to list the comics and give the story. The maxi-series has been under the banner of almost every major comics publisher at some point in its history.
Hamilton Comics
Edit
Hamilton Comics was the first publisher to produce Power Rangers licensed comics with a one year run from 1994 to 1995.
Marvel Comics
Edit
Marvel Comics became the first big name publisher who obtained the rights to Power Rangers. Marvel produced comics from 1995 until 1996, when the line of comics was cancelled.
There was only one issue of Zeo before it was cancelled, thus leaving a cliffhanger unresolved.
Saban Powerhouse (Acclaim/Valiant)
Edit
Saban Powerhouse was a magazine published by Acclaim/Valiant. It featured an anthology of comic stories revolving around licensed characters from Saban, including Power Rangers. The magazine was cancelled after only 3 issues.
Disney Adventures
Edit
Jetix Magazine
Edit
List from Zeoranger.co.uk
Ninja Storm
Edit
Dino Thunder
Edit
Space Patrol Delta
Edit
Operation Overdrive
Edit
UK Power Rangers Magazine
Edit
to be added
Papercutz Comics
Edit
Boom! Studios
Edit
Boom! Studios is the latest publisher of Power Rangers comics, with comics being published from March of 2016 to the present.
DC Comics
Edit
Boom! Studios co-produced the Justice League/Power Rangers crossover with DC Comics.
References
Edit
Hamilton story titles - http://www.brucehamilton.com/hamilton/MMPR/MMPRpage.htm
Release dates - http://www.rangercrew.com/forum/showpost.php?p=395925&postcount=70
Subcategories
This category has the following 7 subcategories, out of 7 total.
Pages in category "Comics"
The following 175 pages are in this category, out of 175 total.