A Martian placed in 50-year confinement for using his kind's talent for controlling machines to rob. He can hack into any computer and latch on any large machine to control it as they would his own body. He controlled a car to chase Ayase. Brought in by TimeRobo Beta/TimeRobo Alpha.
Notes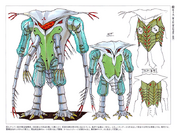 Keys' motif is the one of a water flea.
Depression Seals Location: Upper-left tentacle
See Also
Ad blocker interference detected!
Wikia is a free-to-use site that makes money from advertising. We have a modified experience for viewers using ad blockers

Wikia is not accessible if you've made further modifications. Remove the custom ad blocker rule(s) and the page will load as expected.