To an Infinite Tomorrow (無限の明日へ, Mugen no Ashita e) is the fiftieth and final episode of Mirai Sentai Timeranger. This episode marks as the final part of the four-part series finale.
Synopsis
Naoto is gone. Tatsuya fights a losing battle alone, but not for long as Yuri and the others return to save the 20th century. Have they doomed the 30th century in the process? The Timerangers must find a way to save both centuries to ensure their tomorrow!
Plot
to be added
Cast
to be added
Errors
Notes
This episode aired alongside Kamen Rider Agito episode 2, Blue Storm
This is last episode the Timerangers appear together as a team.
After Yuuri says farewell to Tatsuya, Tatsuya's Chrono Changer vanishes, presuming that it went back to the Year 3001.
Final appearance of Time Robo Beta and Time Jet Gamma. Only the V-Rex and Time Robo Alpha would be seen again beyond the series.
DVD releases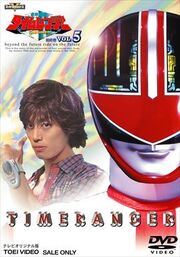 Mirai Sentai Timeranger Volume 5 features episodes 41-50. [1]

See Also
References
Ad blocker interference detected!
Wikia is a free-to-use site that makes money from advertising. We have a modified experience for viewers using ad blockers

Wikia is not accessible if you've made further modifications. Remove the custom ad blocker rule(s) and the page will load as expected.