The Future is no More (未来への断絶, Mirai e no Danzetsu) is the forty-sixth episode of Mirai Sentai Timeranger. It begins the set-up to the final episodes, particularly the move of Naoto Takizawa regarding the Asami Group.
Synopsis
After being restored from repairs, Tac begins to feel worthless to the team as he doubts his own purpose, even as Sion tries to prove he still does have worth.
Plot
to be added
Cast
to be added
Errors
Notes
DVD releases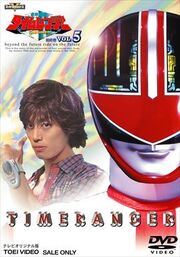 Mirai Sentai Timeranger
Volume 5 features episodes 41-50.
[1]
See Also
References
Ad blocker interference detected!
Wikia is a free-to-use site that makes money from advertising. We have a modified experience for viewers using ad blockers

Wikia is not accessible if you've made further modifications. Remove the custom ad blocker rule(s) and the page will load as expected.