Acceleration of Dreams (夢の加速度, Yume no Kasokudo) is the third episode of Mirai Sentai Timeranger. It features the establishment of the Timeranger's cover for the season: the Tomorrow Research company.
Synopsis
Tatsuya tries to discover more about Ayase in order to find something for him to do in the era as a Londerz Prisoner extorts money by taking control of cars.
Plot
to be added
Cast
to be added
Errors
Notes
This episode aired alongside Kamen Rider Kuuga episode 5, Distance
Introduction of the Timerangers' apartment, which will serve as their homebase.
When Tac is scanning the database, several prisoners that will appear in future episodes can be seen, such as D.D.Ladis, who appears in episode 32. Gien & Lila are also in Tac's data banks.
DVD releases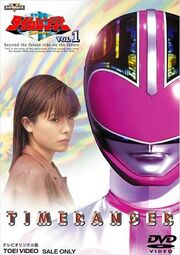 Mirai Sentai Timeranger
Volume 1 features episodes 1-10.
[1]
See Also
References
Ad blocker interference detected!
Wikia is a free-to-use site that makes money from advertising. We have a modified experience for viewers using ad blockers

Wikia is not accessible if you've made further modifications. Remove the custom ad blocker rule(s) and the page will load as expected.