Targeted Power (狙われた力, Nerawareta Chikara?) is the thirty-seventh episode of Mirai Sentai Timeranger. It features Naoto Takizawa discovering the future origins of the Timerangers and their technology.
Synopsis
Naoto's loyalty and adherence to the City Guardians is put to the test when a Londerz prisoner captures him in order to gain V-Rex's power.
Plot
to be added
Cast
to be added
Errors
Notes
DVD releases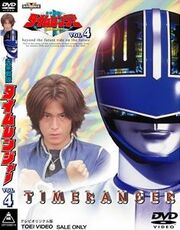 Mirai Sentai Timeranger Volume 4 features episodes 31-40. [1]

See Also
References
Ad blocker interference detected!
Wikia is a free-to-use site that makes money from advertising. We have a modified experience for viewers using ad blockers

Wikia is not accessible if you've made further modifications. Remove the custom ad blocker rule(s) and the page will load as expected.