Honest, as It Is (素顔のままで, Sugao no Mama de) is the thirty-sixth episode of Mirai Sentai Timeranger. It is the conclusion of the storyline involving Domon's trials of winning over Honami Moriyama while she believes that Ayase if TimeYellow.
Synopsis
Domon tries to convince Ayase to help resolve matters regarding Honami as both try to take down a weapons sale between a Londerz criminal and the mafia.
Plot
to be added
Cast
to be added
Notes
DVD releases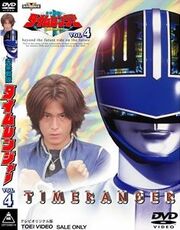 Mirai Sentai Timeranger Volume 4 features episodes 31-40. [1]

References
Ad blocker interference detected!
Wikia is a free-to-use site that makes money from advertising. We have a modified experience for viewers using ad blockers

Wikia is not accessible if you've made further modifications. Remove the custom ad blocker rule(s) and the page will load as expected.