Tomorrow Isn't Coming (明日が来ない, Ashita ga Konai) is the thirty-fifth episode of Mirai Sentai Timeranger.
Synopsis
Naoto begins to repeat the same day over and over after an attack from a Londerz criminal while experiencing a traumatic incident of his own.
Plot
to be added
Cast
to be added
Errors
Notes
DVD releases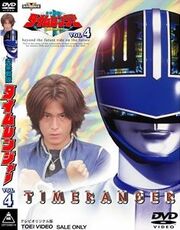 Mirai Sentai Timeranger
Volume 4 features episodes 31-40.
[1]
See Also
References
Ad blocker interference detected!
Wikia is a free-to-use site that makes money from advertising. We have a modified experience for viewers using ad blockers

Wikia is not accessible if you've made further modifications. Remove the custom ad blocker rule(s) and the page will load as expected.