The Fiery New Warrior (炎の新戦士, Honō no Shin Senshi) is the twenty-ninth episode of Mirai Sentai Timeranger. This is the second part, of a three-part episode, that involves Naoto, becoming the sixth Timeranger, TimeFire.
Synopsis
After fighting off the V-Rex, the Timerangers search for it's control unit. However, Naoto who overheard them, intends to take it for himself as a new Timeranger is about to be born.
Plot
to be added
Cast
to be added
Errors
Notes
DVD releases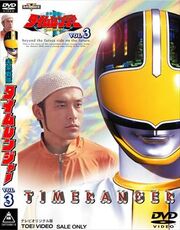 Mirai Sentai Timeranger
Volume 3 features episodes 21-30.
[1]
See Also
References
Ad blocker interference detected!
Wikia is a free-to-use site that makes money from advertising. We have a modified experience for viewers using ad blockers

Wikia is not accessible if you've made further modifications. Remove the custom ad blocker rule(s) and the page will load as expected.