Broken Trust (途切れた信頼, Togireta Shinrai?) is the twenty-fifth episode of Mirai Sentai Timeranger. It is the beginning of a two-part battle with Mad Scientist Genbu and his Genbu Zone.
Synopsis
Tatsuya and Yuri combat on the right methods in order to work together as a team as Dolnero hires a prisoner with a plan to capture the Timerangers.
Plot
to be added
Cast
to be added
Errors
Notes
DVD releases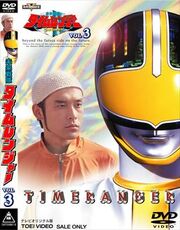 Mirai Sentai Timeranger
Volume 3 features episodes 21-30.
[1]
See Also
References
Ad blocker interference detected!
Wikia is a free-to-use site that makes money from advertising. We have a modified experience for viewers using ad blockers

Wikia is not accessible if you've made further modifications. Remove the custom ad blocker rule(s) and the page will load as expected.