A Shadowy Premonition (影の予感, Kage no Yokan) is the eighteenth episode of Mirai Sentai Timeranger. It is the first of a three-part arc revolving around Gien's first major rampage. It introduces the Kawasaki Laboratory and two experiments that will have baring on future events: a tank and the energy source Lambda 2000. It also foreshadows a new mecha that will soon assist the Timeranger.
Synopsis
to be added
Plot
to be added
Cast
to be added
Errors
Notes
This episode aired alongside Kamen Rider Kuuga episode 20, Smile
The Time Shadow makes a cameo at the end of this episode. Its official debut will occur in the next episode.
DVD releases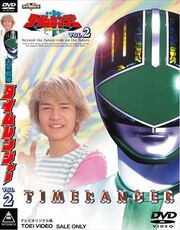 Mirai Sentai Timeranger Volume 2 features episodes 11-20. [1]

See Also
References
Ad blocker interference detected!
Wikia is a free-to-use site that makes money from advertising. We have a modified experience for viewers using ad blockers

Wikia is not accessible if you've made further modifications. Remove the custom ad blocker rule(s) and the page will load as expected.