description to be added
Character History
A Psycho-Nezilar that had an "exchanging beam," allowing him to swap something he had for something someone else had, like his "old man" voice for Chisato Jougasaki's voice and goofy objects for the Megarangers' weapons. Canary Nezilar was sent by an unappreciated Bibidedi and stole Chisato's voice. Killed by Wing Mega Voyager.
Personality
to be added
Modus and Arsenal
Notes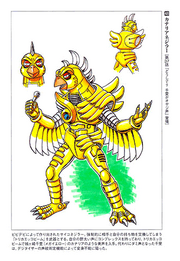 Portrayal
Conception
Behind the Scenes
References
Ad blocker interference detected!
Wikia is a free-to-use site that makes money from advertising. We have a modified experience for viewers using ad blockers

Wikia is not accessible if you've made further modifications. Remove the custom ad blocker rule(s) and the page will load as expected.