Camera Trick (カメラトリック, Kamera Torikku): A small bird-resembling video camera monster. Camera Trick flew about to audition the stars of Buldont's movie. It was the only Machine Beast left to aid in Buldont's next project. Fate remains unknown on this particular robot.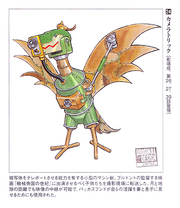 See Also
Ad blocker interference detected!
Wikia is a free-to-use site that makes money from advertising. We have a modified experience for viewers using ad blockers

Wikia is not accessible if you've made further modifications. Remove the custom ad blocker rule(s) and the page will load as expected.