Calvin Maxwell

Ninja Steel Yellow Ranger

Gender:
Male
Season:
Ninja Steel
Color(s):
Yellow
Homeworld:
Earth
First Appearance:
Return of the Prism
Last Appearance:
Number of Episode
Appearances:
TBA (Ninja Steel)
Full list of appearances
Actor:
Nico Greetham

Ninja Steel Yellow Ranger
"Strength of the Ninja! Ninja Steel Yellow!"

―Ninja Steel Yellow's roll call
Calvin "Cal" Maxwell is Ninja Steel Yellow, the Yellow Ranger of the Ninja Rangers.
Character History
Calvin was first seen when he fixed his truck, when he saw Sarah riding on her hoverboard causing him to move his head down as she jumps. Return of the Prism
Personality
Calvin is a cool and confident gear-head who loves building anything mechanical - especially vehicles. He's also rather lackadaisical, at times too much for his own good! Calvin is the boyfriend of Hayley Foster, who is Ninja Steel White.
Ninja Steel Yellow
Arsenal
Zords
Appearances: Ninja Steel Episodes 2-6

When combined into the Megazord, the Rangers need to access Ninja Master Mode in order to operate it. Using the Ninja Master Mode Star, the Rangers can access the Ninja Master Blade to perform attacks with the Ninja Steel Megazord. Without it the Megazord is without energy.
Arsenal
Zords
Appearances: Ninja Steel Episodes 3-8

Behind the Scenes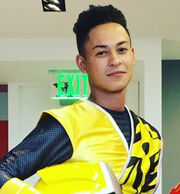 Originally, Calvin was to be played by Chantz Simpson, as announced in Power Morphicon 2016. However, in September 2016 the role was recast for unrevealed reasons.
Portrayal
Notes
Appearances
See Also
References
Ad blocker interference detected!
Wikia is a free-to-use site that makes money from advertising. We have a modified experience for viewers using ad blockers

Wikia is not accessible if you've made further modifications. Remove the custom ad blocker rule(s) and the page will load as expected.