Brightstar
Talk

0
8,828pages on
this wiki
 

Brightstar
Number:
n/a
Pilot/Summoner:
Red Mystic Ranger
Season:
Mystic Force
First Appearance:
{{{firstepisode}}}
Last Appearance:
{{{lastepisode}}}
Number of Episode
Appearances:
{{{numberofepisodes}}}
Full list of appearances
Length:
69.3 m
Width:
21 m
Height:
35 m
Weight:
3100 tons
Speed:
n/a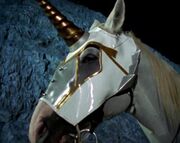 To escape the Dimension of Wandering Souls, Daggeron used Brightstar. This Unicorn is capable to traveling through all Dimensions, and was given to the Rangers by Solaris Knight.
With the Ranger's Legend Powers taken from them, the Red Ranger used Brightstar to combine with his Mystic Phoenix mode to form the Phoenix Unizord.
Phoenix Unizord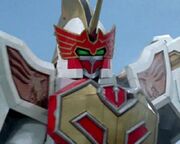 See also: SaintKaiser
When the Red Ranger, in his Mystic Phoenix mode, combines with Brightstar, they together form the Phoenix Unizord. This Megazord is similar in power to the Centaurus Phoenix Megazord. It's moves are similar and it can destroy its enemies with it's Final Strike attack.
Notes
Brightstar was known as "Steerdergon" in toy sales.
See also