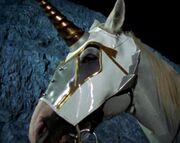 Brightstar is a unicorn capable of traveling through all dimensions.
Daggeron used her to escape the Dimension of Wandering Souls, and then gave her to the Rangers.
With the Ranger's Legend Powers taken from them, the Red Ranger used Brightstar to combine with his Mystic Phoenix mode to form the Phoenix Unizord.
Presumably, she moves in a nomadic fashion throughout the different dimensions, as she is never seen before or after this occurrence.
This zord is exclusive to Episode 23

Phoenix Unizord
See also: SaintKaiser
Phoneix Unizord is a combination of the Mystic Phoenix and Brightstar, they together form the Phoenix Unizord. Its weapon is a unicorn staff made of Brightstar's mane and head. This Megazord is similar in power to the Centaurus Phoenix Megazord. Its moves are similar and it can destroy its enemies with its "Final Strike" attack.
This form is exclusive to Episode 23

Notes
Brightstar was known as "Steerdergon" and the Phoenix Unizord was known as the "Steerdergon Fury Megazord" in toy sales.
Operation Overdrive's toyline featured a Phoenix Unizord toy-colored orange instead of white-in a character set.
See Also
Ad blocker interference detected!
Wikia is a free-to-use site that makes money from advertising. We have a modified experience for viewers using ad blockers

Wikia is not accessible if you've made further modifications. Remove the custom ad blocker rule(s) and the page will load as expected.