description to be added
Character History
Botsian Zortac (ボッツ星人ゾータク, Bottsu Seijin Zōtaku?, 32 & 33): The scatterbrained underling of Karakazian Don Sanoa, he is the first to acquire Muscle Gear, a powerful exosuit with the ability to turn its' wearer invisible and invulnerable to most attacks. Deleted by the five Dekarangers with the new S.W.A.T. Mode.
Personality
to be added
Modus and Arsenal
Notes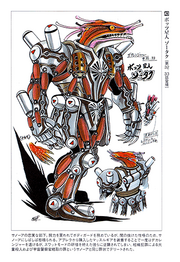 Portrayal
Behind the Scenes
His name is a pun on the name of Japanese actor "Takuzo Kawatani".
See also
References
Ad blocker interference detected!
Wikia is a free-to-use site that makes money from advertising. We have a modified experience for viewers using ad blockers

Wikia is not accessible if you've made further modifications. Remove the custom ad blocker rule(s) and the page will load as expected.