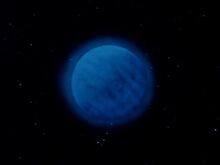 Blue Star is a planet in the Flash System. It is known as the "blue planet wrapped in sand". The planet orbits the farthest right, with Pink Star as its only neighbor.
Bun was raised on this world after being rescued by the Flash, gaining miraculous super-speed as well as the ability to survive 30 days on only a cup of water in the desert landscapes of the world.
Ad blocker interference detected!
Wikia is a free-to-use site that makes money from advertising. We have a modified experience for viewers using ad blockers

Wikia is not accessible if you've made further modifications. Remove the custom ad blocker rule(s) and the page will load as expected.