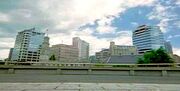 Blue Bay Harbor is the hometown of the Ninja Storm Rangers.
It has a sporting goods store called Storm Chargers where most of them worked.
An alternate dimension's version of Blue Bay Harbor has it's version of Lothor as the Mayor of Blue Bay Harbor.The Wild Wipeout
Appearances
Ad blocker interference detected!
Wikia is a free-to-use site that makes money from advertising. We have a modified experience for viewers using ad blockers

Wikia is not accessible if you've made further modifications. Remove the custom ad blocker rule(s) and the page will load as expected.