A master of blackmail who wields a laserwhip as a weapon. He found a refugee Alekesatuosian, named Algo, and blackmailed him into using his teleportation powers to steal for the Londerz. When Sion intervened, Gaymark took Hayato prisoner to keep Algo under his thumb. In the end, Sion manage to save Hayato and defeat Gaymark before he was the brought in by TimeJet Gamma/TimeRobo Alpha. Around New Year's Eve, Gaymark managed to break out of his confinement capsule, thanks to the land lady, though he was still in miniature form. Once the Timerangers found out, Gaymark took TimeRobota as a hostage. He almost escaped, were it not for Domon's foot crushing him at the last second. The flattened Geymark was then put back into storage.
See Also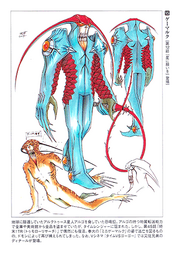 Ad blocker interference detected!
Wikia is a free-to-use site that makes money from advertising. We have a modified experience for viewers using ad blockers

Wikia is not accessible if you've made further modifications. Remove the custom ad blocker rule(s) and the page will load as expected.