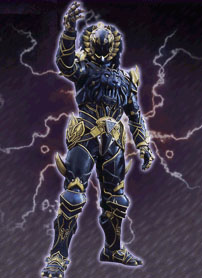 The Black Lion Armor is the armor donned by Jarrod/Dai Shi. Jarrod has always had the Lion Animal Spirit, but only began to manifest this armor when Dai Shi had possessed him. However, it was later revealed that the manifestation of the armor was entirely Jarrod's. When he had broken free of his possessor, Jarrod fought alongside the rangers in this armor, stripped of his second Phantom Beast King (armor) form along with his Rinzin.
Ad blocker interference detected!
Wikia is a free-to-use site that makes money from advertising. We have a modified experience for viewers using ad blockers

Wikia is not accessible if you've made further modifications. Remove the custom ad blocker rule(s) and the page will load as expected.