Black Knight BullBlack
Talk

0
8,954pages on
this wiki
"Black Knight~BullBlack!"
Black Knight BullBlack (黒騎士ブルブラック, Kuro Kishi BuruBurakku) (18-25). The previous Black Knight was a vengeful warrior. He is an ally to the Gingamen.
Biography
He seeks revenge for his young brother Krantz, who is killed by the Space Pirates Balban during their assault on their home planet, Taurus.
His original goal is to find Lights of Ginga, so he could take revenge on Captain Zahab. But his means are very selfish, as he does not care about hurting innocent humans to reach his goal, unlike the Gingamen.
But later it was revealed that he had fallen one thousand years earlier in the same abyss as Hyuuga, and that BullBlack uses the man's body to escape the abyss and fight again. This revelation came up when Hyuuga begins to stop him from using techniques that would hurt humans.
After Krantz's spirit begged him to stop hurting people, BullBlack releases Hyuuga and is killed to save the Gingamen from a hate energy explosion. His spirit found peace after reuniting with Krantz. Later, they appear (as spirits) to invest Hyuuga with BullBlack's powers by giving him the BullRiot Sword.
Black Knight
Starbeast
Arsenal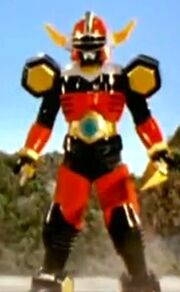 Starbeast
Behind the scenes
Portrayal
Black Knight Bull Black is voiced by Koji Ochiai (落合 弘治, Ochiai Kōji?). Koji Ochiai previously voiced Tommy Oliver in the Japanese dub of Mighty Morphin Power Rangers. His suit actor was Naoki Ōfuji (大藤 直樹, Ōfuji Naoki?).
See also