Beast Knight God King Brachion
Talk

0
8,991pages on
this wiki
"Appear! Beast Knight God, King Brachion!"
The Beast Knight God King Brachion (獣騎神キングブラキオン, Jūkishin Kingu Burakion) is the only one of the Guardian Beasts without a master. He has his own will just as the other Guardian Beasts, although he does not require a pilot. When King Brachion is called upon, he comes from a misty forest valley, which has some water in it. He first appeared in episode 29 to test Geki and Burai if they were worthy of the Thunder Slingers under his guard. After that, he came to the Zyurangers' aid whenever Ultimate Daizyujin was needed.
When his two Tail Cannons are slid forward, King Brachion becomes Super Beast Tank King Tanker (超獣戦車キングタンカー, Chō Jūsensha Kingu Tankā). King Brachion can also shoot fireballs from his mouth. Later in the series, King Brachion is given the task of incubating the last two Dinosaur Eggs until they hatch, which made him a target by Witch Bandora in the finale. Parts of him form a chest ornament and gauntlets for Ultimate Daizyujin.

Ultimate Daizyujin
 

Ultimate Daizyujin
Combined From:


Length:
100 m
Width:
Height:
81 m
Weight:
1250 tons
Speed:

See also: Ultrazord
"Ultimate Fusion! Ultimate Daizyujin!"
When Zyutei Daizyujin and King Tanker are combined, the colossal Ultimate Daziyujin (究極大獣神, Kyūkyoku Daijūjin, Ultimate Great Beast God) is formed. First introduced in episode 31. Although it was the last to be introduced, it is the original form of God, and the mightiest form of all Guardian Beast combinations. Ultimate Daizyujin's finishing move is Gran Banisher, a massive barrage of energy like a twin missile launcher and projectile attacks. It has immense power, enough to defeat Great Satan in the finale.

Notes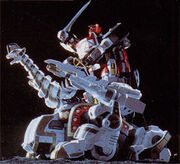 In the series, neither King Tanker nor the Tail Cannons are referred to by name.
Ultimate Daizyujin is the first seven-piece combination.
See also