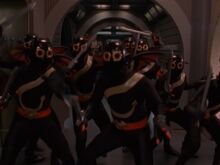 Batlings are impish, bat-like warriors used by Queen Bansheera and the demons. Their bladed weapons were capable of firing blasts of energy, when directed. They were all destroyed in the finale during the destruction of the megazords and the Aquabase then in the final battle against Bansheera, "The Fate of Lightspeed" Part 2.
See Also
Ad blocker interference detected!
Wikia is a free-to-use site that makes money from advertising. We have a modified experience for viewers using ad blockers

Wikia is not accessible if you've made further modifications. Remove the custom ad blocker rule(s) and the page will load as expected.