Bari-Boru-Dara of the Uniberus Headder
Talk

0
Share
Character History
The triple-headed Bari-Boru-Dara is created by Brajira with the ability to turn into a right hand gauntlet, his main head is Bari, his right head is Boru, and his left head is named Dara. After being hit by the Super Sky-Land Dynamic attack and enlarged by the Bibi Bugs, he allows himself to be destroyed by Seaick Gosei Great so he can become the Sea Wedge in the Nega End ceremony.
Personality
to be added
Arsenal
Behind the Scenes
Portrayal
Notes
Bari Boru Dara's name is based on Harry Potter series.
He is based on a unicorn and a Cerberus.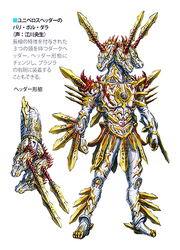 See also
References
Ad blocker interference detected!
Wikia is a free-to-use site that makes money from advertising. We have a modified experience for viewers using ad blockers

Wikia is not accessible if you've made further modifications. Remove the custom ad blocker rule(s) and the page will load as expected.